Weeks go along as the candles are lit, one after another.
Though life goes on faster than ever, each night we gather to sit and watch. After all, busyness is never an answer.
The quiet moments are when things happen-- when we are attentive enough to see what is happening.
Expectations rise for the hope that is drawing near. Gratitude rises for the blessings that fall down, covering up other troubles.
This week I am grateful for. . .
61. The first snow of the year
62. Safe roads despite the snow
63. An afternoon spent reading
64. An evening spent wrapping gifts
65. The pink hat I received from a friend
66. Birthday plans being made
67. Books to curl up with on dark nights
68. Chocolate
69. Hope
70. The quiet times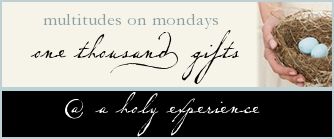 Blessed quiet to you~ Megan