A new year, anew with thanks. . .
101.
Resolutions (despite the fear they strike in me. . . I try very hard to keep promises and resolutions seem to be very intimidating promises)
102.
Paper clips. I am especially enthralled by the bird shaped ones I received for Christmas.
103.
An
evening with good friends
104.
Nerf gun games that leave me sore . . . Oh, the things sisters can't teach you!
109.
An
attempt
at re-establishing routine after Christmas break
110.
Three birthdays next week that prompt a Birthday Break
111.
Names that make me smile (like Birthday Break)
113.
Chocolate and Fairy calendars that remind me time is passing
114.
My birthday in the middle of Christmas and New Year's. . . reminding me of time even better than the calendars
115.
That God is outside of time. . . that he can help everyone stuck in time. . . that we will someday be freed. Perhaps I'll post more of my thoughts on this subject later in the year. That could be a resolution . . .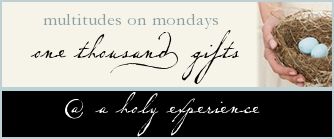 Happy 2011~ Megan