I have never liked roller coasters. My little sisters' bravery has been the only thing that pushed me into them. I was always daunted by their safety hazards, the height and sheer magnitude only frightening me more. When we went to an amusement park on vacation, I resigned myself to the fact that I was rightly afraid and didn't have to go on any of the roller coasters. This worked fine until the end of the day. That was when the other four members of my family were going on the tallest, curliest, fastest roller coaster there. And I swallowed my fear and joined them.
I knew I would go fast. I knew I would go hight. I knew I would be going upside down. I even knew I would chicken out if I had a chance to think things through. But the park was not crowded and I was able to walk right on. I pulled down the shoulder cushion and told Middle Sister I would be fine. Then the roller coaster took off and started a painful assent to the sky. I squeezed the seat and prayed. All the power I put into fear poured into my prayer. As we climbed higher and higher, the blessing my pastor always says at the end of our church service came into my head. We came to the very top of the hill and in that pause right before you head downhill I heard the last words of the blessing,
so go in peace.
Something incredible happened (other than the gravity defying stunt performed by the roller coaster).
I had fun.
Peace had settled over me.
Continuing my gratitude list. . .
531.
actually enjoying a ride on two roller coasters
532.
eyes open while going upside down
533.
the spring in my sisters steps after they rode a roller coaster
534.
an absence of fear
535.
visiting a cave for the first time-- knowing I will want to visit another
536.
my mom teaching us new words
537.
eating lunch at a place where they throw rolls to you (my years of never playing baseball did not come in handy :)
538.
an amazingly comfortable bed at our hotel
539.
riding on a train
540.
the actors performing a train robbery messing up their lines and creating a more entertaining show
541.
visiting the Titanic museum
542.
feeling an iceberg
543.
living though it :)
544.
a walk along Tablerock lake
545.
clear water between my toes
546.
feeding fish at a fish hatchery
547.
my camera losing the fishy smell it picked up there
548.
riding a horse
549.
getting the chance to say "Giddy up"
550.
no crowds at the amusement park
551.
baseball game
552.
cheers for the home run that won everybody a Sonic slushy
553.
cotton candy. . . blown up sugar
554.
stands full of excited people
555.
peace despite circumstances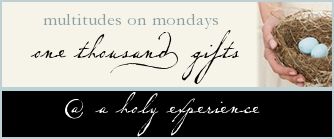 Blessings to you~ Megan