Wildflowers smile everywhere, from morning walks to afternoon drives, reminding me to give thanks for the unexpected beauty crowding around every bend. . .
823.
good dental hygienists
824.
listening to
Enchantress From the Stars
on CD
826.
Youngest Sister's mischievous, smiling face during her Nightmares dance
827.
gel medium photo transfers
828.
wildflowers on the side of the road
829.
passport applications mailed
830.
experience at the post office that was long, yet fascinating
831.
books for next school year on shelves
832.
loft floor clear of books
833.
cherry tomatoes picked from the plant on our deck
835.
successful check-up at the doctor's office after my cold hung around for over a week
836.
strength through Friday rehearsal
837.
trying origami with my sisters from a book Youngest Sister received
838.
how paper can fold into boats and balloons
839.
fresh, sweet oranges
842.
closet floor cleared of clutter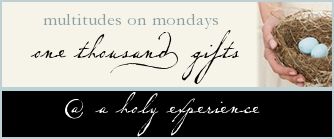 Wishing you wildflowers in bloom~ Megan