Meet the birdies who have made their home in the Japanese Maple just a few steps from our front door. My mom heard them chirping last Thursday, and called my sisters and I to see. These little guys looked like three rock stars. . .
I ran inside, grabbed my camera, then waited quietly by the tree. Before long, a grown up bird with a beak full of worms began hopping toward the tree. She (for I assumed this was Momma Bird) would hop about a foot, stand perfectly still, then glance sharply around her. This ceremony was repeated until she finally flew to her nest. The little birds went wild chirping. I turned my camera on and snapped a picture. . .
Momma Bird wasn't too happy. She stood to attention, then hopped onto a branch. She cocked her head to one side, then the other. I've never before thought about birds being emotive, but this bird's eyes seemed to glare my direction. Small as she was, my heart pounded. For about two minutes, I stood totally still. Finally, Momma Bird decided her babies were safe, and she flew away. I went inside, feeling very grateful to have escaped her reprimand.
Silly as the encounter was, it has me thankful for things taking flight. Fears and birds leaving, joys beginning to soar. . .
914.
watching baby birds being fed by their momma
915.
making a list of books I want to read
916.
learning about a coffee shop around the corner from the dance studio
917.
iced tea and laughter
918.
slip up while changing my costume opening the door to a better plan
919.
schedule allowing for lots of sleep
920.
filling up another journal~ stopping to reflect on the past few months
921.
delightful visits with cousins in town
922.
visiting the Coterie and LegoLand with them
923.
wonderfully real-tasting cheese made out of tofu
924.
there being a little over a week until the ballet takes flight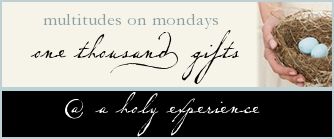 Blessings~ Megan