Raking in the blessings after a week of thanks. . . .
956. knitting a Barbie blanket
957. playing the card games slap jack & golf
958. sisters who teach me games
959. raking leaves
960. eating chili~ packed around a dining room table~ lots of laughter


961. hearing an amazing opera singer with a dear friend
962. learning how to tie heart knots (thank you to this video)
963. frog in my throat leaving
964. said frog being figurative
965. a day of Thanksgiving
966. long piano piece roughly in my head
967. meeting second cousins for the first time
968. having tea parties and "eating" almost as much pretend food as real
969. test for literature, spelling/vocab, and history complete
970. becoming well acquainted with the amendments to the Constitution
971. moving a chair from my room to Youngest Sisters'
972. managing to maneuver the chair through her doorway
973. it working in her room perfectly
974. completing my nature shadow box
975. figuring out why I got stuck on a math problem
976. visiting my Nana and finding her with a crochet hook & yarn
977. new pictures hung in our living room
978. a cold day with rain and a sprinkling of ice
979. babysitting an actual baby
980. my mom's wisdom on caring for babies
981. sleeping soundly
982. the sky constantly changing in beautiful ways
983. the moon saying hello in daylight
984. sisters researching chinchillas as pets
985. learning that the animals are nocturnal before any kind of commitments were made
986.
Sevenly
shirt arriving in the mail
987. first letter from a college mysteriously arriving in the mail (though how they found my is a mystery. . . not quite sure if I should be glad or paranoid :)
988. formulating Christmas gift ideas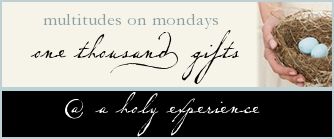 Blessings to you~ Megan