The beginning of school has always been blurry to me. Homeschooling has allowed us to ease into subjects and routine. It's a process similiar to getting in cold water at the swimming pool-- it takes time to get used to, but eventually becomes refreshing.

This school year something changed. I wasn't able to wade into subjects. The stakes grew higher, the work harder, and the time I had went quicker. Curricula filled with books, questions, and answers pushed me into the murky waters of high school.

Slowly the waters are becoming clearer. I'm getting more and more comfortable with the change, but I am still trying to work out some kinks. Until then I am glad that my Multitude Monday can blur into Thursday.
Again counting my gratitude after a few good, but blurry weeks of activity. . . . .
493.
homemade granola bars
494.
a new lunchbox, needed a lot this past month
495.
running outside, barefoot
496.
two pitchers of water with lemon in the refrigerator-- one for my mom, and one for me!
497.
a hard teacher who made me grow
498.
security in God
499.
dance. I have always really enjoyed it, but this dance intensive made me see how much I love it.
500.
time at home
501.
warm walnut bread with dinner
502.
my very own laptop
503.
friends moving here from "across the pond"
504.
swimming in a lake for the first time
505.
watermelon
506.
watching
The Next Food Network Star via Hulu
507.
swimming with good friends
508.
this cream
helping to heal my first (and last) sunburn of the summer
509.
school starting
510.
routine back in place
511.
reading about the Gospels (
this book
gives fascinating insight!)
512.
dinner at
Dean & Deluca
last Friday night-- a nice ending to a long week
513.
taking a peek at the dessert display there
Definitely worth seeing. . .
514.
eating the "globes" Middle Sister and Youngest Sister baked using vanilla cake mix, food coloring, and white frosting when we got home
515.
the way geography and baking can work together deliciously
516.
cucumber plant curly cues
517.
rain watering for us
518.
Youngest Sister baptized!
519.
being on track with school
and, most of all,
520.
renewed
focus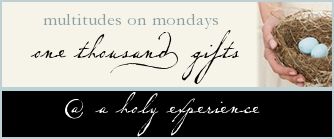 ~Megan