September is in full swing and I'm still attempting to step gracefully into life at home. As routine and school have slid into the days, I've felt a bit scattered. But, thankfully, beauty doesn't demand order. It's managed to smile into the hours and remind me that this month, this new season, is truly something to welcome. So now as I've caught my breath somewhat, I'm here to share the moments caught by my camera and try to let the blessings truly get caught by my heart.
Continuing my gratitude journal. . .
925.
coming back to dance classes
926.
getting un-glamorously sweaty
927.
graduated girls wonderful enough to be greatly missed
928.
demonstrating in two of Youngest Sisters' classes- so fun to get to know those sweet girls!
929.
a sky full of spectacular clouds by day and stars by night
930.
darling hand-me-downs from a friend
932.
the making and eating of my sisters' edible cell science project (jello and candy illustrated things well :)
933.
watching our ballet performance on dvd for the first time with all the girls in my class
934.
the immensely complex weaving of a dragonfly's wings
935.
getting a peel done on my face (the name sounds crazy, but it's really just like a mask that really works)
936.
matcha-loaded black tea
937.
getting the hang of writing geometry proofs
938.
watching a Disney movie that wasn't too predictable
939.
swinging on the patio after dinner
940.
the way our shrub rose blooms in the summer, and comes back blooming in early autumn
943.
my dad trimming the shrub roses, and bringing one to the table
934.
enjoying my physics class (as clarification, the class is one morning a week and specifically for homeschoolers)
935.
conversation and laughter while riding with a ballet friend who is also taking the physics class
936.
gifted teachers
937.
a white-haired lady at the hair salon who smiled and told me she liked the scarf I was knitting
938.
finishing my burnt orange scarf before the leaves turn that same color
939.
Middle Sister and Youngest Sister restoring order to Barbie World
940.
Youngest Sister's note on the kitchen table letting us know where she was
941.
watching Star Wars 5, 6, and 7 with my dad and sisters (our favorite characters were Yoda and the Ewocks :)
942.
walking then jogging at the track
943.
one sister sporting colorful hearts, the other a panda hat
945.
a moment in the middle of spinning when acceleration and balance were actually working together
946.
Boden
catalogue accidentally arriving in our mailbox- being delighted by cozy colors and charming styles
947.
heat softened by a breeze
948.
sweater weather peeking around the corner
949.
kale growing in a pot on our deck
950.
riding bikes
951.
Youngest Sister riding without help of training wheels
952.
shadows playing on the ground
953.
banana bread baking- it's smell filling the house
954.
chivalry being alive and well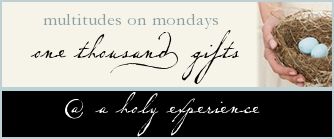 I'm glad to have a couple more weeks to get to know you better, September. But as for now, welcome~ Megan