On Saturday we decorated our Christmas tree. One by one ornaments saying things like
My First Christmas
and
Joy to the World
came out of the box. Looking at how many ornaments have been collected over the years led me on a train of thought that ended with wondering:
Are people like Christmas trees?
Christmas trees start out small, then grow up to various heights.
People start out small, then grow up to various heights.
Christmas trees are filled with ornaments, ones in remembrance of special occasions and ones that are simply decorative.
People too are ornamented, on the outside with things to make them more beautiful and on the inside with memories of special occasions.
Christmas trees are topped by a bow, angel, or star.
People are topped by either their own selfish desires or the desire to serve God.
Finally a Christmas tree just isn't quite right without lights on its branches.
People aren't quite right without the ultimate light, Jesus, in their life.
In the daylight, or easy times, the light blends in with the rest of the tree (or person.) It is easy to focus on the ornaments and forget about the lights.
However in the night, or hard times, the ornaments mean nothing. They are still there, but not even visible in the darkness. The lights are what make you know the tree is a Christmas tree, or the person is a Christian. By the lights you can appreciate the ornaments.
Continuing with
gratitude
during this advent season, I want to make sure I am focusing on and being thankful for the light. Ornaments make us each unique, but the light is what makes us whole.
21. Jingling Bells
22. Pictures newly hung up on my walls
23. Time to work on Christmas gifts
24. Candles in our windows
25. Sleeping in on Black Friday
26. Treasures found in my Nana's old printers drawer
27. Christmas carols being played on the piano
28. A craft store close to our house
29. Beautiful November weather
30. The hope of snow to come
31. Arrival of the Advent season
32. Tape to heal my paper related woes
33. Home schooling
34. Victorian pictures above my computer
35. The red cheeked snowman on my desk
36. Carmel tea
37. Mechanical pencils
38. Pink sunsets
39. Lit-up Christmas trees
But, even more,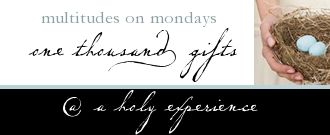 ~Megan