Last week I took a break from posting about my gratitude list, spending time instead enjoying sunshine on vacation. This week, I am very glad to be back here counting my blessings. . .
339. The fountain outside our hotel
340. Meeting the Pacific Ocean with my sisters
341. An adventure riding the trolley cars around San Francisco
342. Three visits to tea rooms. . .
343. Enchanted-looking alleys
344. These large, delicious statues that sit in the middle of the Google campus. From what I understand, they represent the different Android apps. If you want to know more, I suggest you Google it :)
245. Reading 1 and 2 Peter instead of writing out Matthew for the last week of Lent. It was a nice change for Holy Week and very travel-friendly; a little way of giving myself grace.
246. Finding this verse in the NIV version of 2 Peter chapter 3--
"Dear friends, this is now my second letter to you. I have written both of them as reminders to stimulate you to wholesome thinking."


It was fascinating to consider how different things stimulate me and what would happen if I only did things that stimulated wholesome thinking.
347. A walk in between the largest trees I have ever seen
Everyone seems to shrink in Muir Woods
348. Driving over the Golden Gate Bridge
349. Perusing the lush Japanese Tea Gardens
350. In-N-Out Burger
If only they weren't only located miles and miles away. . .
351. This page about ballerina pink cosmetics in
Better Homes and Gardens
magazine. I love how polished and pretty the color is!
352. A safe flight home
353. My own bed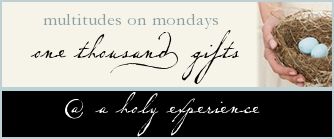 May your week be full sunshine~ Megan