As an only child for the first four years of my life, I played a lot with my cousin Zachary. He was just a little younger than me, and laid back enough to let me take charge, a thing I loved to do. We made a great team and together fought the most evil villain we knew-- boredom. We had never come face-to-face with our foe. . . we were much too crafty for that. Instead we used our little brains to make up new and interesting things to do.
One day, when my Mom and PawPaw were watching us at Zachary's house, I had an idea. While they were talking, Zachary and I went up to his room, closed the door, and started making a pile of everything in his room in front of the door. We were not trying to make a mess. We were just trying to have fun. We lifted and stacked, impressed by all that we could move. Out came the dresser drawers. Off came the sheets on his bed. We didn't realize that the boxes in the storage closet attached to Zachary's room might be "off limits" so we took them to our pile as well. I can still remember trying to reach a box on the top of a pile and having the whole stack fall down in the process.
Well, that got it down
was my naive thought. We didn't miss a thing.
Meanwhile, my Mom and PawPaw realized how quiet it was, and came upstairs to investigate. When they found Zachary's door closed and were unable to open it, they asked us through the door what we had done, then to move enough of the things so they could open the door. We did but it took some negotiation. We were proud of completing what we set out to do. Eventually we move enough of the things out of the way so some very worried people could open the door. We had basically dismantled Zachary's room in less than five minutes. Unfortunately, it took my Mom and PawPaw two hours to put everything away (no, they did not "let" us help. . . I think it was nap time.)
Needless to say, our little mission was never repeated.
Over ten years later, Zachary and I don't see each other quite so often. School and sports have separated my little teammate and I. We have both grown, Zachary now going by Zach and I not making near so many messes. But, though our room destroying days are over, on the occasional get together I know Zach will follow his sister and three girl cousins up to the play room before being called down to dinner. And every now and then, after that call comes, I know we'll be given a hard time about when we destroyed Zach's room.
Unfortunately, this lesson hasn't yet penetrated completely. Though I no longer make piles of things in front of real doors, I do in front of spiritual ones. Whenever I place material things in front of my walk with God, I am closing a door. His voice can still come through, but it is much harder for me to hear him. He has blessed me with a life full of things to do, but it is never good when I use those things in ways he didn't mean them. I suddenly have a mess and it is blocking help. It is a struggle to get the door open again but, when I do, my mess becomes smaller. Eventually everything gets put back in its place. In the process I have recovered a new delight in the blessings and in the light from the open door.
So, this week I am thankful for--
42.
A visit from friends preparing for an adventure in Germany
43.
Clementine oranges in season
44.
Quiet confidences concerning Christmas gifts
45.
A 7 year-old sister who recently listened to (un-abridged) Little Women by Louisa May Alcott on CD
46.
Seeing four friends in a Little Women play
49.
Two little blond heads bent over knitting
50.
The poem about sheep that helps teach them to knitt
51.
Cheerful music in the background
52.
A little advent cottage with two doors and twenty-two windows
53.
Two purple candles lit in front of the Christmas tree
54.
Long hair growing longer
55.
The box of Christmas gifts under my bed. . . shhh!
57.
The knowledge of how to upload pictures from my camera
58.
Flowers not yet dead from the cold
59.
Forgiveness for my messes
60.
Open doors—Opened doors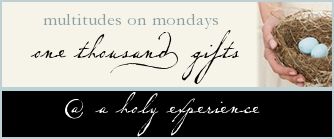 ~Megan