All day, it has been snowing. For the first time this winter, there is enough snow on the ground to go sledding. For the first time this winter, my Dad could not get to work because of the snow.
The snow keeps falling.
The birds keep flying.
I wonder if we are not like the birds.
I wonder if we attempt to dodge oncoming blessings because of fear.
The snowflakes are cold, at first.
The snowflakes form a blanket fast.
But, being a bird is not all bad.
When you're a bird you stay close to other birds.
When you're a bird you are protected by feathers.
You are not the one who provides your warmth.
You have the Creator taking care of you.
Giving thanks for falling blessings--
116. Birds.
117. Flying. But that does NOT include a recent dream (or rather nightmare?) in which I landed an airplane. . . . Really, I do not ever hope to be a pilot.
118. Cold temperatures (please note it is not nearly as cold as this thermometer would like you to believe).
119. Snow!
120. A sledding trip on our favorite hill.
121. Hot chocolate at home after the walk back from sledding. Today my little chocolate calendar shared a recent study showing that a brisk fifteen minute walk reduces chocolate cravings, but I found the hot chocolate even better. But, then again, I did not time our walk.
122. Breath you can see.
123. Unique--snowflakes, birds, blessings.
124. Snowed in together.
125. Baking and decorating cookies with Meemaw.
126. Beautifully bound old books.
127. Beautifully bound new books.
128. A musical birthday gift.
129. Sisters begging for a turn to try and play it.
130. A new mug full of tea.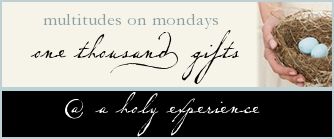 Blessed warmth to you~ Megan