I have always loved the gem collections in natural history museums. Fossils are tolerated, and even liked to some extent, but it's always those jewels that capture me.
Going up and down the aisles of a craft store, painting a picture, writing a poem, and looking at gems all capture me.
I lose myself .
I lose track of time.
There is a verse in the Bible about thinking on bright and beautiful things. I found it in Philippians 4:8
Finally, brothers, whatever is true, whatever is noble, whatever is right, whatever is pure, whatever is lovely, whatever is admirable-if anything is excellent or praiseworthy-think about such things.
Maybe my enjoyment in things that sparkle and shine (both literally and figuratively) has its place in glorifying God too.
Giving thanks for things that sparkle and shine--
141. Be-jeweled bobby pins
142. Cookie Baking
143. Snow balls
144. Icicles
145. Dresses
146. Book societies, especially with
Jane Austen
147. A lovely event with
lovely people
148. Moments when the world feels like one big snow globe
149. Rosy cheeks
150. E-mails with my cousin
151. Revealed nests
152. Middle Sister's first sleep over
153. Middle Sister back home
154. Successful (though dramatic) loss of Youngest Sister's sixth tooth
155. Delightful correspondence between Youngest Sister and the Tooth Fairy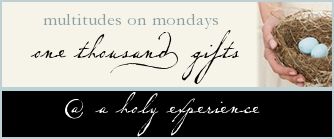 ~Megan